José Antonio Abreu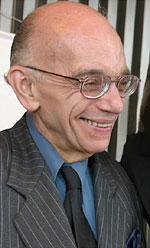 The Visionary
He has earned many accolades, like sower of hope, dream maker and key player in Venezuela's historical evolution throughout the last 50 years, but a simple word would just befit maestro José Antonio Abreu-Anselmi, the founder and driving force behind the National System of Youth and Children´s Orchestras of Venezuela, and that word is 'visionary'. This unshakably convinced, warm-hearted, strong-willed musician has been able to undertake a task that reaches beyond music to encompass the rescue and education of Venezuelan youngsters.
Born the eldest of six children to a family of musical lineage, at the break of dawn on May 7 1939, in Valera, a city in the northwestern Venezuelan state of Trujillo, Abreu confesses that it was his eagerness to serve his country, and his concerns and uneasiness about social inequality that encouraged him to develop, in 1975, an ingenious Venezuela-oriented plan aimed at synthesizing and channeling the economic, managerial, pedagogical and musical experience and knowledge he has acquired throughout his life.
An Accomplished Scholar
Maestro Abreu´s job description carries the titles of Acting Associate Professor, Master Composer, Conductor, Harpsichordist, Organist and Pianist. His desire to become an accomplished professional and his great dedication to study earned him a degree in Economics from the Universidad Católica Andrés Bello, and a Ph.D. in Petroleum Economics from the University of Pennsylvania. These academic achievements allowed him to distinguish himself as a university professor, a planning director and an economics advisor. He held the positions of Planning Director at the Oficina Central de Coordinación y Planificación (the Central Office of Coordination and Planning), Advisor to the Consejo Nacional de Economía (National Economic Council), Minister of State for Culture, President of the National Council for Culture, and Deputy in the Venezuelan Congress.